The T7 Release 7.0 was launched on Monday, 3 December 2018. All relevant information will be published here.
The following diagram gives an overview of the introduction schedule: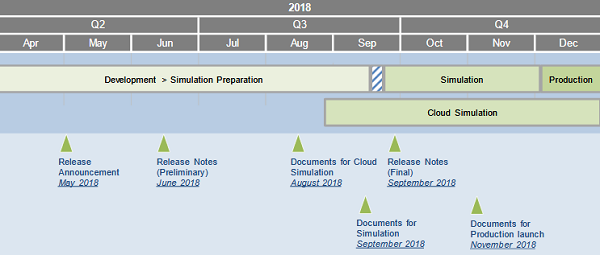 These are the T7 Release 7.0 enhancements:
Eurex EnLight Enhancements
Eurex Improve
Enhanced Risk Functionalities and Protection
Passive Liquidity Protection
Equity Total Return Futures
Baskets of Equity Total Return Futures
Extension of Trading and Clearing Hours
Please be aware, that T7 Release 7.0 will provide backwards compatibility for the T7 ETI and FIX interface version 6.1, i.e. Participants will be able to connect to T7 using the 6.1 interface layout even after introduction of T7 Release 7.0. Market and reference data interfaces will not provide backwards compatibility to previous releases.
Reports
Please note, that the following new reports were introduced with T7 Release 7.0 in December 2018:
TE590 – Eurex Improve Trading Indications
TT136 – Pre-trade Risk control
Further information about the reports will be published on the Eurex website.
Corresponding mailings
System documentation: T7 Release 7.0 
T7 Cloud Simulation
In addition to the T7 Release Simulation, Trading Participants and ISVs can also use the T7 Cloud Simulation. The T7 Cloud Simulation allows to test against the current and former T7 production and simulation software versions. For more information on the T7 Cloud Simulation please refer to the T7 Cloud Simulation website.
If you have any questions or require further information, please contact your dedicated Key Account Manager or send an email to customer.readiness@eurexchange.com.