Fixed Income Market Briefing
Release date: 10 Dec 2019
| Eurex Exchange
Fixed Income Highlights – December 2019 edition
Latest Edition
As with each of these briefings, I'd like to say thank you to the liquidity providers and market makers who help make our markets liquid across our core franchise and for supporting new products — more on the latter later in the briefing. Turning my attention to the actual numbers, simply put, it was an indifferent month. I say this knowing that November 2018 was particularly strong with robust volumes. In November, we saw pockets of strength with Bund options seeing decent flow as volatility got sold and then bounced into month-end. This, in turn, helped our weeklies volume. A highlight was the Italian segment, which continues to go from strength to strength with volumes up over 34 percent month on month.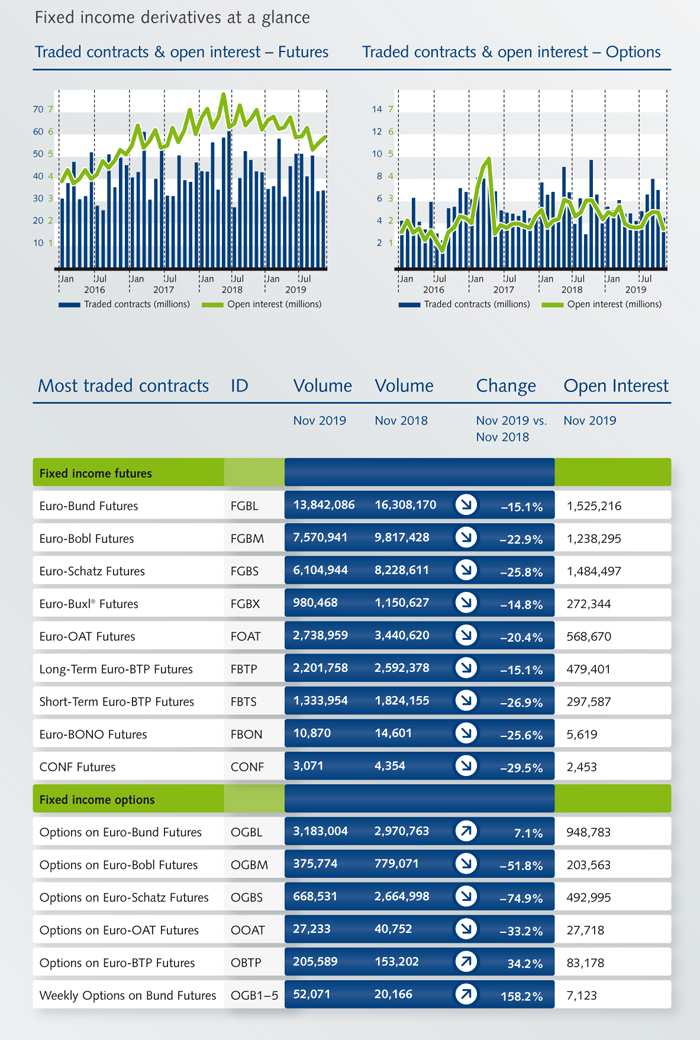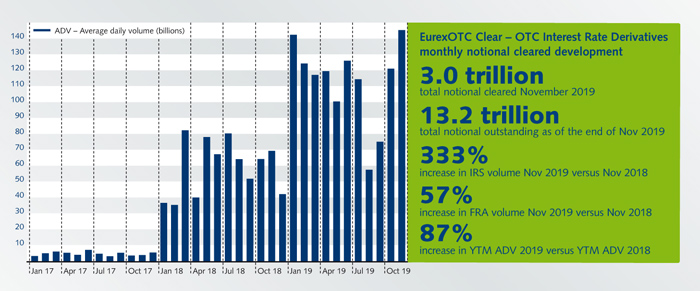 In this video, Matthias Graulich, Member of the Eurex Clearing Executive Board, discusses the risk management challenges that the buy side faces due to changing regulatory requirements and today's low interest rate environment, and how a new breed of solutions is helping firms access the cleared repo market for more efficient cash management. Risk.net has conducted this video interview. It was published first on Risk.net.
On 9 December, Eurex became the first exchange to launch EUR-denominated fixed income ETF options. The two new underlying ETFs – iShares EUR High Yield Corporate Bond ETF (IHYG LN) and iShares Core EUR Corporate Bond ETF (IEAC LN) – are among the largest corporate bond ETFs in Europe. Watch the highlights of our interview series on fixed income ETF options: Ashley Curtis from BlackRock and Lee Bartholomew from Eurex talk about market evolution, future trends, challenges and growth opportunities.
Eurex Clearing's direct access model for the buy side – ISA Direct – is gaining traction as it welcomes its first EU-domiciled bank as a member. Raiffeisenlandesbank Niederösterreich-Wien AG (RLB NÖ-Wien) recently became a direct clearing member of the central counterparty's ISA Direct service, with ABN AMRO acting as clearing agent.
Swiss Life Asset Managers uses Eurex Clearing's ISA Direct service for clearing OTC interest rate swaps with ABN AMRO Clearing acting as the Clearing Agent. In this video series, Jan Grunow, Head of Operations at Swiss Life Asset Managers explains the benefits of direct CCP access for the buy side and the particular advantages for insurance firms. Alexander Jacobs, Head of OTC Clearing at ABN AMRO Clearing explains how the agent role reduces exposure and how the bank's clients profit from this model and its optional services.
10 December 2019 marks the one-year anniversary of the Eurex Extended Trading Hours initiative. In the past year, we've seen an average quarterly growth of 15 percent in traded volumes during the Asian hours.
The Derivatives Forum Frankfurt 2020 is a full day of discussions, thought leadership insights, industry debates and networking with peers. One of the leading events on derivatives, trading and risk management, the Derivatives Forum will take place on 27 February 2020 as part of a series of forums.

Subnavigation
Eurex Group on