Fixed Income Market Briefing
Release date: 10 Feb 2020
| Eurex Exchange
Fixed Income Highlights – February 2020 edition
Latest Edition
Fixed income futures volumes picked up towards the end of January after a quiet start to the year, characterized by low volatility. The markets broadly exhibited a risk-off sentiment emanating from the fear of the coronavirus spreading further and its impact on global growth saw developed market government bonds rally globally as equity markets sold off.  [...]

Read the full market briefing by Lee Bartholomew, Head of Fixed Income Product R&D, Eurex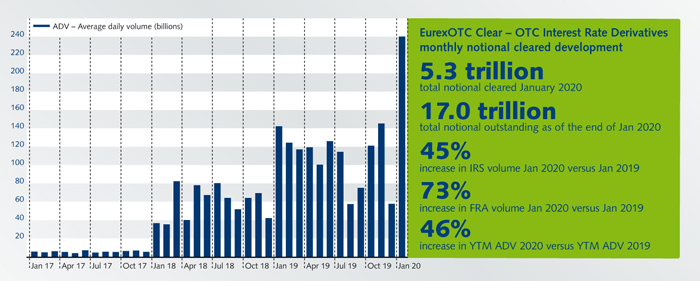 J.P. Morgan – one of the Eurex Partnership Program design partners and member of the new Repo Board Advisory Committee – has completed onboarding for Eurex GC Pooling as a pilot client for balance sheet netting, a joint offering from Eurex Repo and Clearstream.
Eurex Clearing's Executive Board Member Matthias Graulich posts an update on the developments and outlook for clearing EUR-denominated interest rate swaps in Frankfurt.
TRAD-X, the industry's first dealer-to-client (D2C) pure electronic central limit order book (CLOB), completed several live transactions in EUR IRS between dealers and non-dealers. We spoke to Danny Chart, Head of OTC Product & Clearing Business Development at Eurex Clearing, about the implications for the market.
This year's Derivatives Forum in Frankfurt dedicates an entire stream on Capital & Collateral Efficiencies. We are pleased to have Clement Cordier, Head of Derivatives Clearing Services at HSBC France, to share some of his thoughts on the evolving role of collateral management and how HSBC is leveraging those opportunities.
Ahead of January's GFF summit, Eurex Repo's Frank Odendall, Head of Repo and Securities Lending Product & Business Development, wrote a blog post on the changing methodology of securities financing and the opportunities it brings.
Carsten Hiller, Head of Fixed Income Sales Continental Europe at Eurex Repo, posted a blog on the success of the Eurex Partnership program in 2019 and the further expansion of the program in 2020.
It was the perfect start into the new decade for leading market players, regulators and industry bodies: from 28 to 30 January, more than 700 delegates from all over the world gathered in Luxembourg to join the annual Global Funding and Financing (GFF) Summit.
The new decade is upon us and even though it's tempting to look back, let's look forward instead. The Derivatives Forum Frankfurt 2020 will focus on the opportunities the new decade brings Europe, the eurozone and the financial markets as disruption is shaping our industry at an unprecedented pace. Sign up now!
The 10th annual edition of FOW Trading Amsterdam will be held at the Okura Hotel in Amsterdam on 5 March. Meet us there in Amsterdam!
Ahead of the 2020 implementation, ICMA organizes a one-day workshop in Frankfurt, providing the practical aspects of reporting repo transactions as required under the EU Securities Financing Transactions Regulation (SFTR). The SFTR workshop in Frankfurt will take place on 18 February 2020.

Subnavigation
Eurex Group on