Equity Index Market Briefs
Release date: 12 Mar 2019
| Eurex Exchange
Equity Index Highlights - March 2019 edition
Market Briefing
February was a busy month for new product launches at Eurex and especially our innovative ESG derivatives segment was off to a promising start. The open interest in the STOXX® Europe 600 ESG-X in particular is building up nicely. The underlying index applies a light exclusion methodology and we expected it to be in demand. While the ESG derivatives took the limelight, we also introduced the STOXX® Europe Select 50 index futures and options. This is an index frequently referenced in structured products, as the combination of low volatility and high dividend yield factors leave the respective long-dated call options relatively low cost. Here we have already seen early block option volume activity. ETF options were also in focus. In February we added new listings covering the top five in-demand US sector products, Brazil, FTSE EPRA and FTSE 250. We are expanding this segment in response to the continued excellent volume trend on the iShares physical gold ETC option. Another 200k contracts traded in February, mainly concentrated in the June put contracts in the 25 to 25.75 strike range.
Equity markets across the globe have seen a particularly bullish performance when adding the February gains to those experienced in January. The run-up was mainly driven by the Fed's U-turn on the progression of interest rate hikes. Sentiment however, given the speed of the market rally in only the first two months of the year, remains cautious. We primarily see this evidenced in our MSCI options and specifically the strong volume growth in the main benchmarks of MSCI World, EM and EAFE.
Finally, looking at our more established products, there were large volume increases in our Total Return Futures. Here Eurex welcomed additional members quoting and trading on behalf of clients. Towards the end of the month, there was an unusually large print in our VSTOXX options. The strategy executed appears to be a purchase of a May 24 / 27 call spread funded through the sale of May 15 / 13 put spread. In order to achieve a zero premium, there was a ratio executed of 185k call spreads vs. 92.5k put spreads. One possible explanation and motive may be speculative positioning ahead of an anticipated delay to the Brexit deadline, factored with the European Parliament elections. Staying on events occurring in May: Eurex announced the planned EnLight extension, our selective RFQ service, to all equity and index options. We anticipate that members will be keen to utilize this service, building on the successes seen in the Swiss market where a trial has seen positive volume development. To ensure a smooth rollout, the Eurex team is ready to respond to any member inquiries.

Zubin Ramdarshan, Head of Equity & Index Product Design, Eurex
Prisma: Time-to-Expiry Adjustment (TEA) relevant for quarterly expiry - liquidity and trading behavior may change during the roll

With Eurex Clearing circular 024/19, we outlined various measures including the concept of "Time-to-Expiry Adjustment", the focus of Eurex Clearing Prisma Release 8.0. This change in calculation facilitates proper handling of market risk from positions close to expiry and penalises these positions within the portfolio by explicitly considering their hedging and/or directional disposition within the portfolio. The margin effect of the expiring positions will increase incrementally prior to expiry, based on the risk horizon of the liquidation group.
Focus ESG Derivatives: Q&A with BNP Paribas Asset Management

Responsible investing has become a major theme for institutional investors worldwide. More than $23 trillion in AUM are now invested according to environmental, social and governance (ESG) principles. Following the introduction of the first three ESG Futures on leading European Benchmarks of responsible investment criteria, climate impact and low carbon focus, Eurex spoke with Olivier Rudez, Head Flexible and Absolute Return Paris at BNP Paribas Asset Management, Multi-Asset & Quantitative Solutions, a leading global asset manager.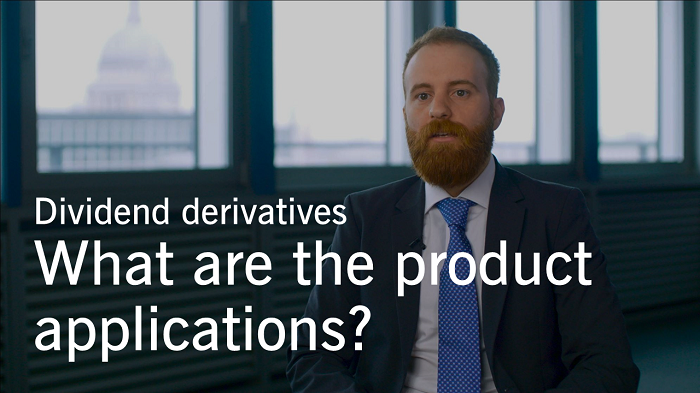 Watch the fourth part of our dividends video series. Lorenzo Longo, a Delta One derivatives trader at Goldman Sachs, talks about the applications of our dividend products and describes the workings of single stock dividend futures.

Launch of ESG Derivatives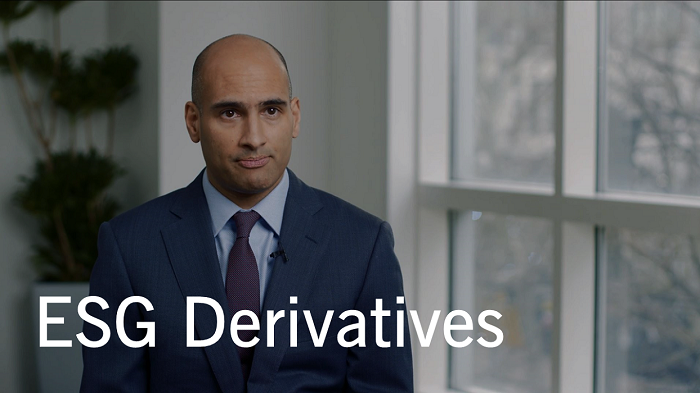 Eurex recently launched futures on three STOXX indices: STOXX® Europe 600 ESG-X Index, EURO STOXX 50® Low Carbon Index and STOXX® Europe Climate Impact Index. In this short video interview, Zubin Ramdarshan, Head of Equity & Index Product Design, Eurex, shares the reasons for launching the first three ESG benchmark index futures with focus on exclusion, low carbon & climate impact.

Eurex extended trading hours

The Eurex extended trading hours have seen a high participation rate of our Asian and international client base during the first 3 months after the launch. As of 1 March 2019, the total number of traded contracts during the extended trading hours (Asian hours) has exceeded 1.1 million contracts. Since 10 December 2018 extended trading hours are offered in select liquid futures on Eurex.

Eurex EnLight: Combining off-book liquidity with on-exchange efficiency
Eurex EnLight, the selective RFQ platform, will be taken to the next stage in May 2019 (subject to approval by the Eurex Exchange Council), extending the product suite by adding all equity and equity index options and corresponding futures available on Eurex. The product extension is accompanied by a number of measures:
Introduction of a Liquidity Provisioning (LP) building block and related LP rebate differentiation.
Differentiation of standard fees for A-Accounts and P/M-Accounts in equity options, equity index options and interest rate options.
Differentiation of the Minimum Block Trade Sizes for equity and selected equity index options.

For more information please see Eurex circular 022/19.

Eurex EnLight brings together buying and selling interest from all types of market participants engaged in off-book trading and serves larger scale execution requirements. The platform increases process efficiency, provides liquidity and assists members to comply with MiFID II Best Execution.
Register now: Derivatives Forum Frankfurt, 11 April 2019

Impact investing, technological advancements, regulation and geopolitical developments are rapidly changing our industry. We will touch on this paradigm shift at our Derivatives Forum 2019. Topics of discussions are changing market structures, the impact of ESG and the evolution of the European financial markets landscape. Register now to join us in Frankfurt on 11 April!
Meet Eurex at FOW Amsterdam on 21 March!

On 21 March, the FOW returns to Amsterdam for their annual conference. Join us at our booth to catch up or to simply enjoy the coffee at our ESG-themed barista stand. Please also note that, together with IMC and STOXX, we host a special roundtable at 16:25 named "The future(s) of ESG". We are looking forward to seeing you there.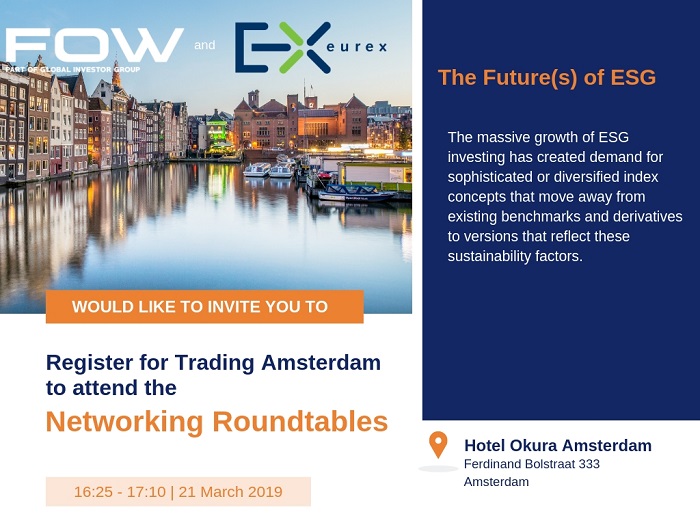 Megan Morgan
Global Head Equity & Index Sales

Eurex Exchange - The broadest choice of Equity Index Derivatives worldwide.
Subnavigation
Eurex Group on