Market briefing 
by Lee Bartholomew, Head of Fixed Income Product R&D, Eurex
August was a relatively benign month, with total volumes up 4% across Futures and Options. Open Interest stood at 7.1mn and total traded contracts was north of 37.7mn. In the German segment, Buxl outperformed, trading over 1.5mn contracts, an increase of 31.6%. The Italian BTP and French OAT sectors continued to perform strongly, with volumes up 47% and 14% respectively. This translated to 3.1mn and 3.6mn contracts. As we headed into the last week of August, we saw futures volumes average 5mn contract per day as we went into the roll period. Open Interest development showed that the bulk of roll activity was conducted prior to the US Labor Day holiday (total OI > 6mn contracts). The highlight of the rolls were Bobl, OAT and Buxl which outperformed their 2020 ADV's by over 200% in the roll week, respectively trading 1.3mnm, 540k and 240k contracts a day.
Implied volatility remained anchored throughout August, with Bund vol trading in a tight range of c.3.5-4.1%. Having said this, volumes in Bund options were up 59%, trading 2.4mn contracts. The belly outperformed which translated into 363k contracts trading in Bobl options, an increase of 27.6% versus August 2020. Similarly in options, we have started to see a pick up in volumes, with options volumes averaging 170k contracts per day, led by Bobl options with an ADV of 28k over the past two weeks, nearly twice as high as in 2020. The primary driver behind this were Bobl dislocating from Schatz yields as the curve re-steepened. Buxl options traded just over 3,000 contracts per day in August and reached a new open interest record of +65,000 contracts prior to the last options expiry.
Turning the attention to September the team has been working on new initiatives, which will see the launch of two new ESG futures contracts. ESG is an important segment across the franchise and we are excited to be launching products in FIC. The futures will form part of a broader portfolio which we feel will position Eurex at the front of FIC ESG.
Facts & figures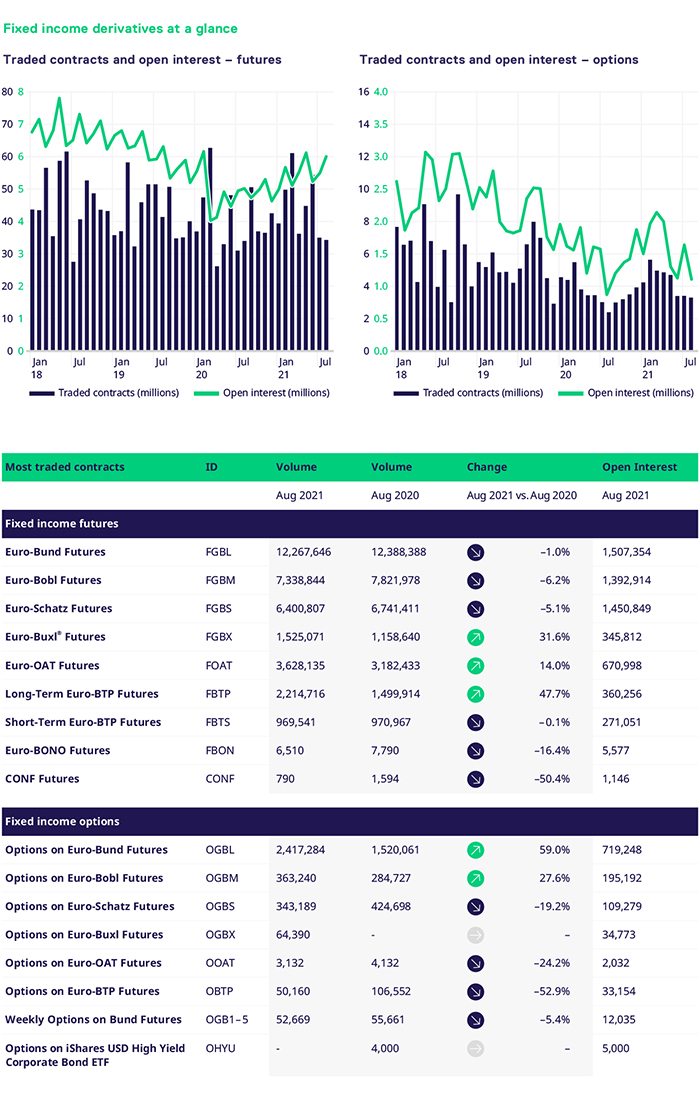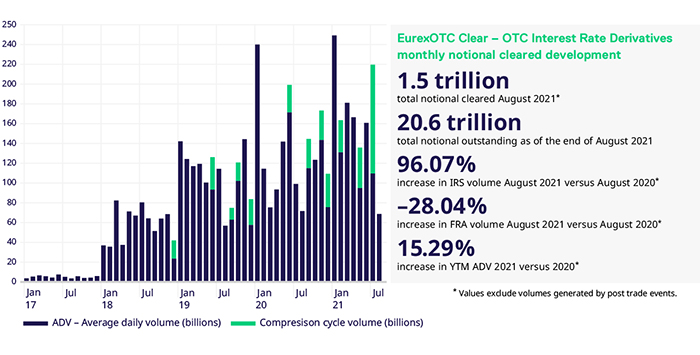 Discover the full Eurex monthly statistics