Market briefing 
by Lee Bartholomew, Head of Fixed Income Product R&D, Eurex
May was a strong month across the fixed income portfolio, with futures seeing a 36.9% increase in volumes. In options, we saw an increase of 36.2%, with Bobl options as the standout performer. Broadly speaking, higher yields underpinned volumes, a bear steepening of the curve and higher implied volatility. The long end of the curve continued to up its activity with Buxl futures volumes at 1.8m contracts, an increase of 105%. Bunds and Bobl saw a volume increase of 45% and 28%, respectively, trading 16.9m and 9.5m contracts. The French and Italian segments continued to outperform, with volumes up 67.7% and 92.2% in the 10y sectors. In the short end, the Italian BTS futures traded 1.7m contracts, a 41.9% increase. Additionally, the Bono futures volume increased by 114.9%. The French OAT segment traded c.4.5m contracts and the Italian segment saw 3.3m and 1.8m contracts trade across tenors.
Over the course of May, the Italian 10-year yield saw a much stronger yield rise – close to 30bps – between the beginning and middle of May, which caused the spread between the BTP and the Bund to widen to 120bps. At the end of May, this differential closed at 108bps.
With volatility edging higher over May, options volumes also saw a spike in trading activity. Bund options performed strongly, with c. 4.0m contracts trading, up +140.4% year-on-year, while weekly Bund options continued their positive momentum with volumes up +164.4% YoY. The belly of the curve continues to attract interest from an end client's perspective. This helped to underpin Bobl options volumes that saw volumes being more than three times higher than in May 2020 and marking an outstanding YoY growth rate of +223.7%.
Facts & figures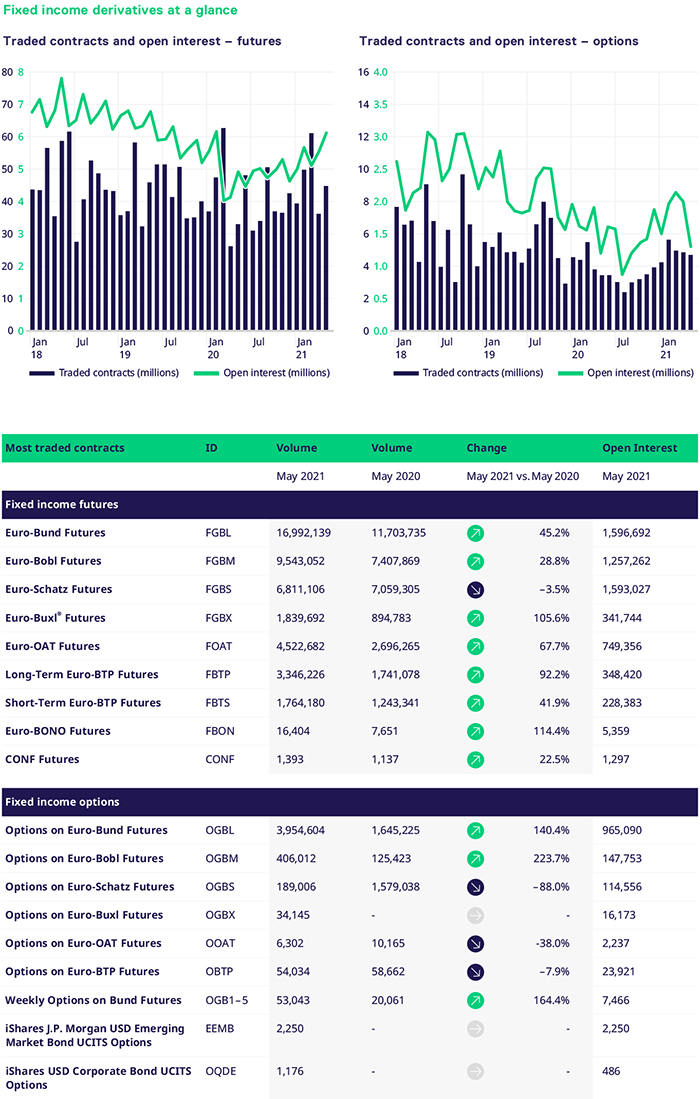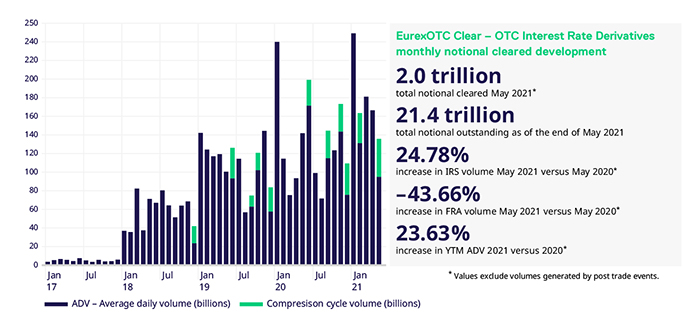 Discover the full Eurex monthly statistics

Roll analytics
Eurex looks ahead to the German, French and Italian fixed income futures June roll and the open interest expectations for Q3 2021. This quarter, four of the six futures change CTD. The last days of May already saw several calendar roll trades in Schatz and Buxl futures as the June expiry date approaches. Typically, the bulk of the roll activity gets executed between the first and second week of June.