Market briefing 
by Lee Bartholomew, Head of Fixed Income Product R&D, Eurex
The month of June saw a continuation of the positive volume development, underpinned by better realized moves in the underlying rates markets and spikes in implied volatility. In May, the German yield curve witnessed a significant bear-steepening move during the first two weeks that was inflationary pressure driven. The German 10-year yield rose as high as -0.10% in May (a two-and-a-half-year high). June saw some of these gains given back, which helped support Eurex futures volumes. In the German segment, Euro-Bund, -Bobl and -Buxl® Futures all outperformed, seeing 33%, 22.5% and 69.1% growth versus the same period in 2020. Schatz volumes were marginally lower at 19.4m contracts versus 20.5m (-5.5%) over the same period. 
The French and Italian segments continue to see elevated volumes and it is great to see them go from strength to strength. In Q2, the French OAT segment traded close to 13.8m contracts versus 9.04m in Q2 2020, an increase of 52.6%. In BTP's, the 10y saw the largest uptick in volumes, trading over 10m contracts, an increase of 58.7% Q2 21 versus Q2 20. The short BTP traded 5.4m contracts in Q2, a 27.6% increase on the same period of 2020. 
The ECB put out the concerns over inflation surging in Europe as it sees them as a temporary effect of national economies gradually reopening after easing off the COVID-19-related lockdown restrictions. Hence, the rising inflation rate in the short term will not prompt the central bank to change its accommodative monetary policy stance, according to ECB officials.
Inflationary pressure on the European yield curves eased off due to the ECB's commentary. In turn, the German 10-year yield reverted its rising trajectory to close at -0.20% by the end of May and this theme continued into June. Some of the heat was taken out of the reinflationary trade. The reversal saw a pickup in implied that helped the options segment. 
Options on Bund and Bobl outperformed in the German segment, with 9.855m and 1.15m contracts trading, respectively, an increase of 78.6% and 165.8% in Q2 versus the same period of 2020. Options on Buxl saw over 100k trade in Q2. Weekly Bund options witnessed another strong quarter, with volumes up 160% versus Q2 2020.
Away from the core rates segment, there was a late surge of activity in ETF options with investors focused on the USD HY corporate bond ETF, with c.20.6k contracts trading.
The quarter's momentum continues as we head into July, giving hope for a solid Q3. There are some risks that the end of Q2 saw increased hedging activity ahead of the summer break, but we are optimistically confident in the outlook ahead.
Facts & figures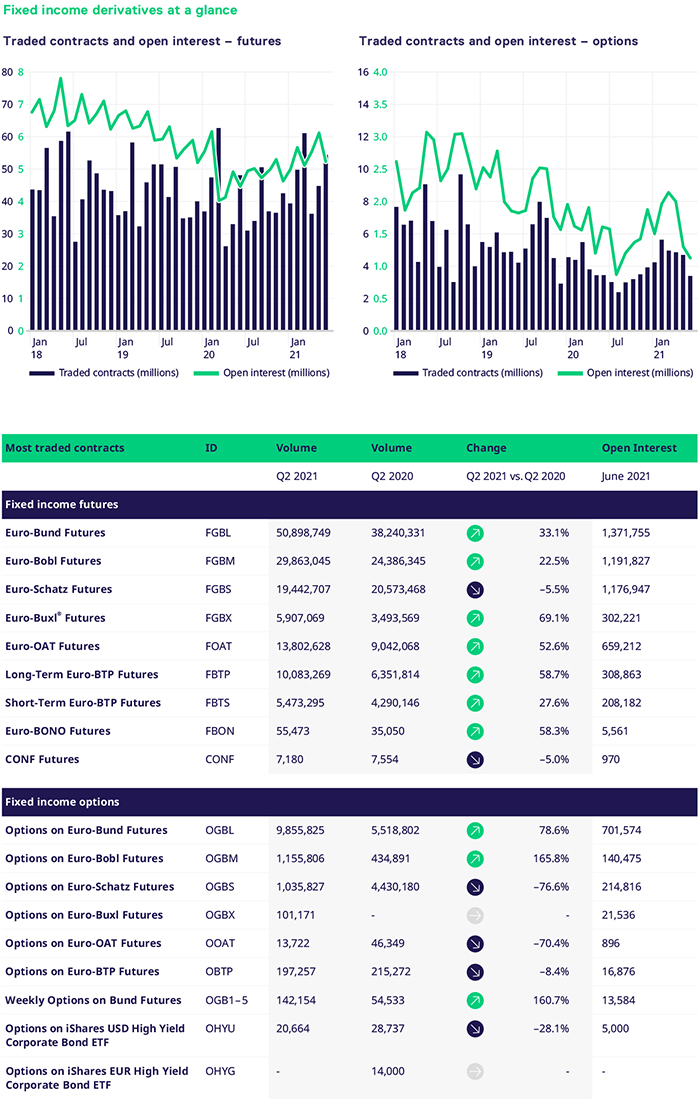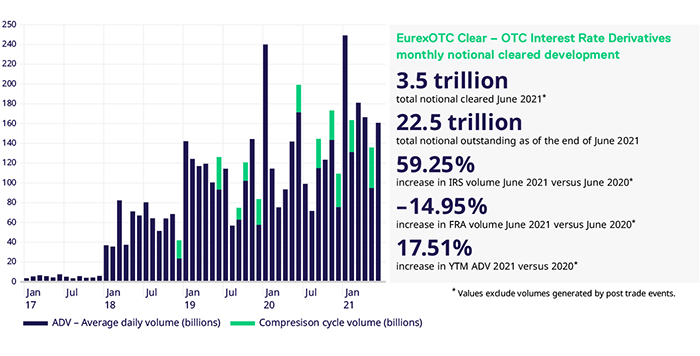 Discover the full Eurex monthly statistics