Market wrap-up 
Q3/2021 was the fourth consecutive quarter that showed substantial growth numbers across the single equity offering at Eurex. We observed double-digit growth rates in all segments, including equity derivatives and Single Stock Dividend Futures. Especially in the French, Dutch and Italian segments, Eurex increased its market share and strengthened its position as Europe's leading exchange in equity derivatives. The strong growth underpins our ambition to offer our clients portfolio margin efficiencies across the broadest pan-European offering in equity derivatives. 
The EURO STOXX® Banks sector benefitted from the inflation fears that increased interest rates, showing a solid outperformance against the benchmark in Q3. This drove large sector exposure trades across the European banking landscape, bringing Unicredit, ING and Deutsche Bank into the top 10 traded underlying options, joined by Credit Suisse and UBS. The ECB's July decision to not extend the recommendation to limit bank dividend payments beyond September 2021 also drove volume recovery in bank dividend futures, based on hedging activities in those instruments.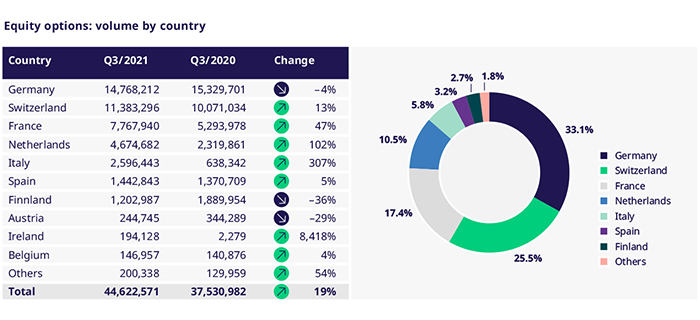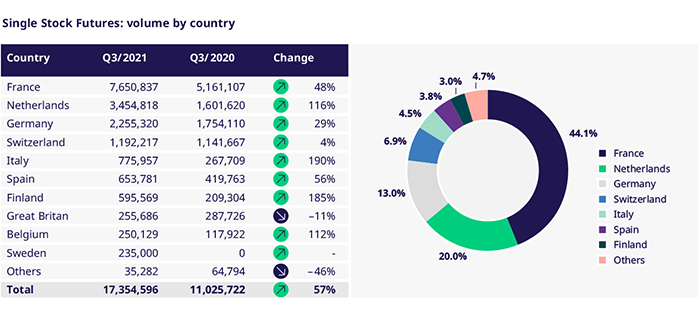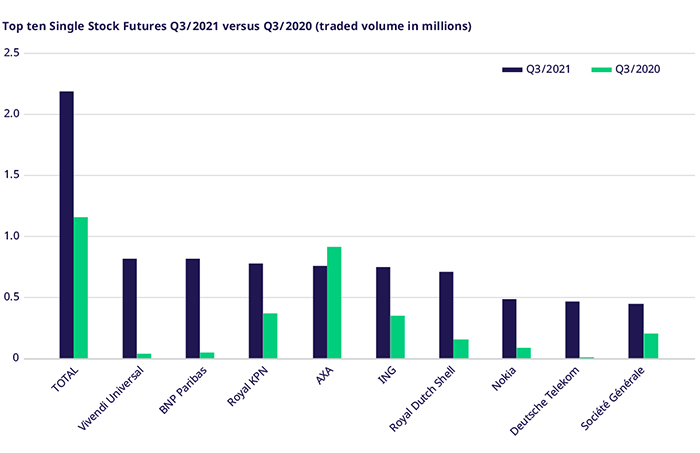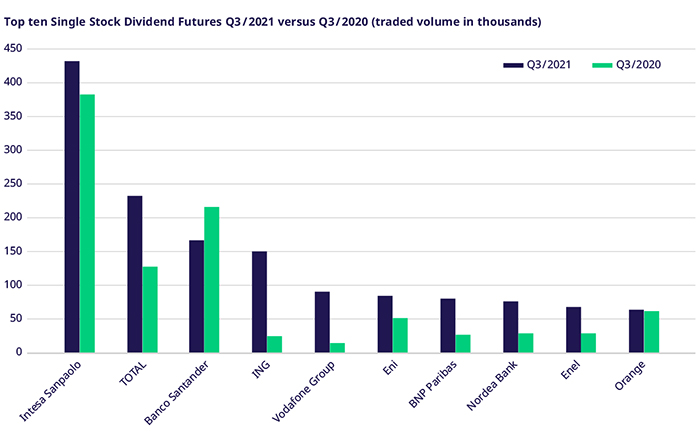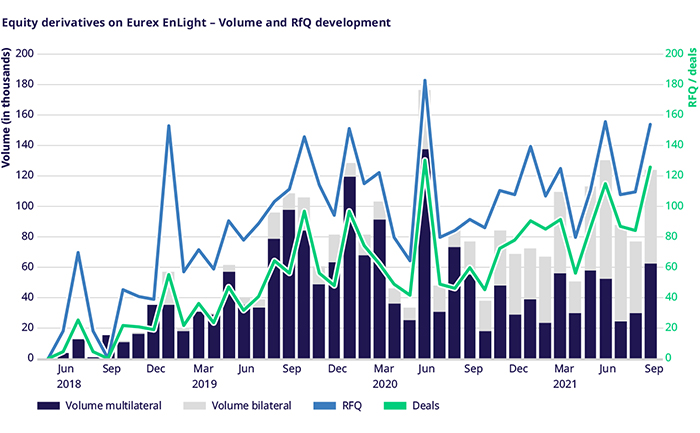 Updates on our Equity Derivatives
Bank Dividends – Bounce back or buy backs 
Pre-pandemic financial institutions were one of the largest contributors to dividend distributions in Europe (and globally). This reinforced the perspective that the sector's recovery following the global financial crisis was in its final stages. 2019 was a good year revenue-wise, including the bank sector, and dividend expectations were robust going into 2020. The Dec-20 expiry of the EURO STOXX® Banks Index Dividend Future closed at 5.46 on 20 January 2020 – and the underlying price index (SX7E) was at 94.85. This meant, in simple dividend yield terms, healthy expectations of around 5.75%. The ECB also maintained its guidance on distributions policies being prudent and subject to maintaining minimum capital requirements, so the levels of certainty around dividends were relatively high.  
Bringing futurization to equity financing
Equity Total Return Futures and Basket Total Return Futures were developed by Eurex in 2019 to provide a collateral-efficient replication of the popular OTC Equity Total Return Swap and to build on the success of Eurex's Total Return Futures portfolio. Discover the evolving interest in Equity Total Return Futures and Basket Total Return Futures and understand their functionalities and key benefits. 

We are European Derivatives Exchange of the Year 2021
Eurex has been named European Derivatives Exchange of the Year by Global Capital. Read more about the reasoning why we won the award, citing Eurex CEO Michael Peters.