Market briefing 
by Zubin Ramdarshan, Head of Equity & Index Product Design, Eurex
July marked performance divergence in key regional equity markets; U.S. stocks kept marching up while Europe was a more mixed picture at a country level. Meanwhile, Emerging Markets saw the weakest development, driven by the latest Chinese regulatory interventions. Investors remain fearful of which sectors will be targeted next. Some analysts see China as temporarily un-investable. Therefore, the reaction has been to sell now and ask questions later.
Turning the focus to Eurex data, we have strong volume growth compared to July last year for the VSTOXX® and STOXX® Europe 600 futures. This broader European benchmark continues to attract clients in search of a Pan-European answer to the S&P 500. Looking at the index options, we saw another strong month of activity in the EURO STOXX® Banks and the EURO STOXX 50® month-end options. We also observed a new participant in our Basket TRF segment. There has been a tremendous increase in interest for this listed, centrally cleared equity finance solution in the wake of the Archegos scandal.
We find ourselves in the summer holiday period, where markets traditionally slow down. But, not at Eurex! We have concrete plans for extending our MSCI derivatives suite in late Q3 and members can expect an announcement shortly. This adds to the already communicated go-live for Equity Bespoke Baskets. This innovative functionality provides a solution to transact a basket of single stock derivatives in one combined execution. It also allows for subsequent rebalancing and reshuffling. Without a doubt, market players use this quiet period to open hedges ahead of the historically volatile early Q4 period and the unfortunate uncertainty created by new COVID variants.
Facts & figures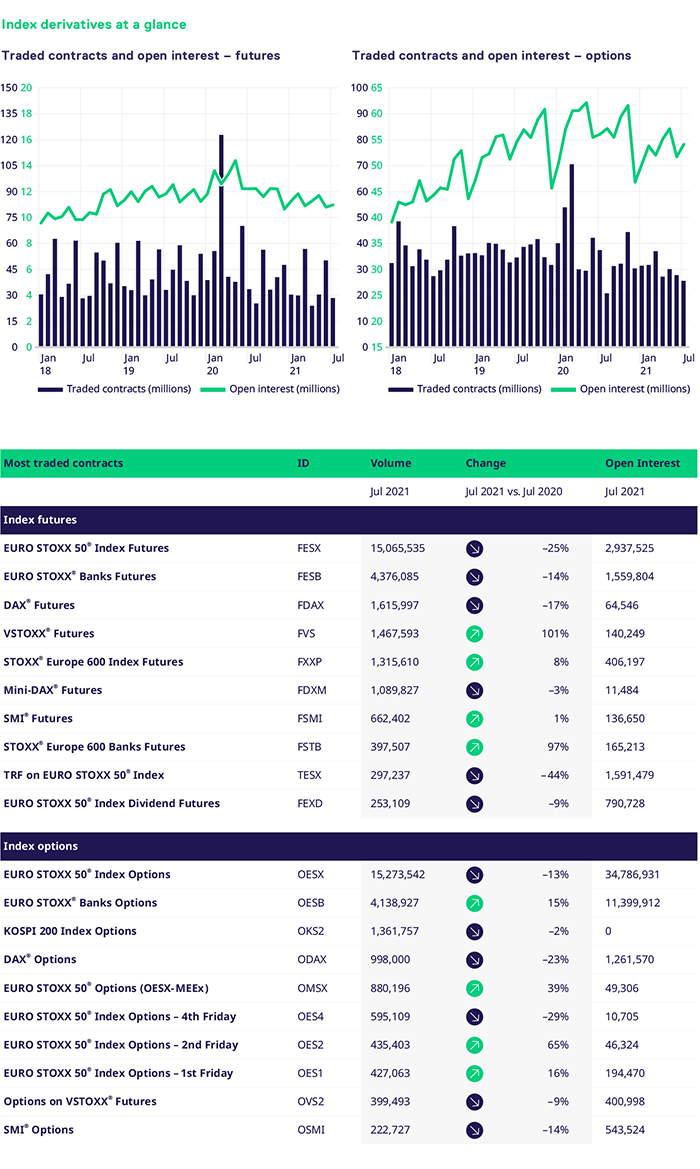 Discover the full Eurex monthly statistics