Our STOXX® Europe 600 index derivatives provide many opportunities. The index represents large, mid and small capitalization companies across 18 countries of the European region.  It is therefore a broad, investable index, making it useful as a benchmark for the entire European stock market. Our derivatives on the STOXX® Europe 600 Index enjoy a successful development in the first half of 2016.
STOXX® Europe 600 Index Futures (Product ID: FXXP)
Until June 2016 maturity, 5.7 mn contracts have been transacted. Thereof, approximately 70% was traded via the order book.
ADV (y-o-y) grew by 148% to 48,000 contracts.
Open interest (over 300,000 contracts) doubled compared to May 2015.
10 Market Makers are permanently supporting liquidity in STOXX® Europe 600 Index Futures.
Over 160 active Market Participants from a very diverse base.

STOXX® Europe 600 Index Options (Product ID: OXXP)
In light of increasing liquidity in the futures contracts, the first Market Maker has started to permanently quote STOXX® Europe 600 Index Options.
Since April 2016 new strike price intervals are available to offer more granularity in choosing the right strike.
Open interest raised by +40% in only one month.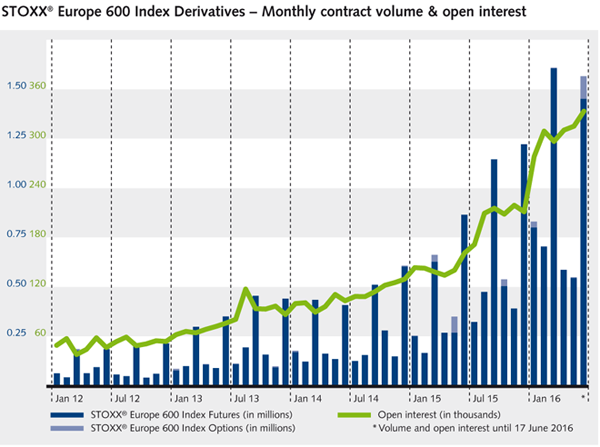 Eurex Exchange - Enjoy the broadest choice of Equity Index Derivatives worldwide.

For further information on our portfolio of derivatives on European size indexes please contact